Facelift Surgery
As we get older, our bodies undergo a number of different changes. Nowhere is this more obvious than our face, since everyone sees our face first. Our natural production of collagen and elastin slows, our muscles and tissues sag which causes us to lose volume, start sagging and accumulate lines and wrinkles that betray our advancing years. When you combine these natural effects with those created by pollution, sun damage and free radicals, it is evident why so many of us feel that we look older than we really are.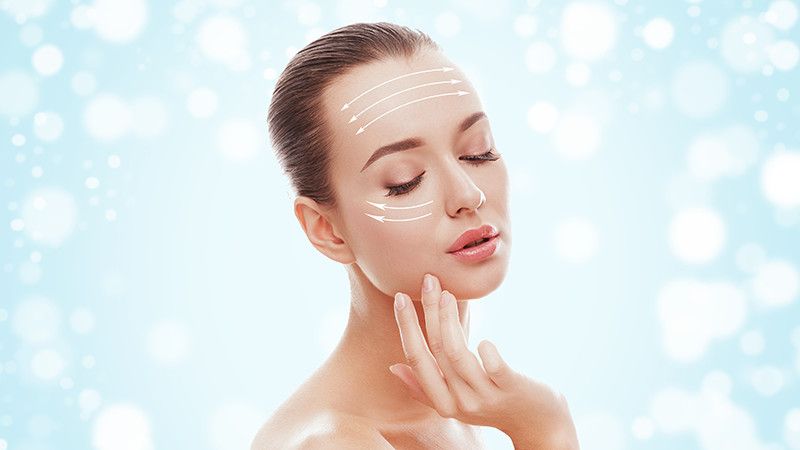 Signs of aging
There are many different ways in which the natural aging process can affect the appearance of your face. Some of the most common include:


The corners of your mouth dropping, giving the appearance of a downturned smile.

Your eyebrows may look heavier or seem to sit lower on your face.

Your smile lines look deeper.

Wrinkles, known as crow's feet, will develop around your eyes.

The skin on your eyebrows is no longer as smooth.

Your jawline looks less defined with jowls that are more pronounced.

Wrinkles form around your lips and across your forehead.

Lines running from your nose to your lips deepen, causing lipstick bleed.

Excess skin sags around your chin and neck.


Fortunately, we don't need to live with this frustration, we can look younger with surgical and non-surgical treatments. While there may be many products that claim to offer temporary relief from the effects of aging, an increasing number of us are turning to the only guaranteed way of achieving a refreshed and more youthful appearance – facelift surgery. And while non-surgical facial fillers are implemented often at the Optimization centre to restore volume, Dr. Albert will utilize face and neck lift procedures to fix the problem of fallen skin, fat and muscles.
What happens during a facelift procedure?
At the Optimization Centre, facial rejuvenation surgery is optimized by addressing your unique signs of aging and your desired results. Most patients desire a natural, more youthful look, which is very obtainable with meaningful, honest collaboration between the patient and Dr Albert. Patients that are having a facelift procedure may be concerned with what happens during the procedure itself. The surgery may be performed under local or general anesthesia. Dr Albert's unique approach gives patients more flexibility to have this procedure with the minimal amount of modifications needed, thus reducing the recovery time and make the experience safer and more pleasant.
​​​​​​​
Dr. Albert will make an incision in creases around the ear and along the hairline. By placing the incision in this location, any scarring is minimized and hidden. The facial fascia, skin and muscles are then lifted back into place. The excess tissues are augmented, and excess skin is then removed.


Frequently, a patient may choose to combine their facelift procedure with another, complementary surgery such as a brow lift, eyelid lift, rhinoplasty, chin implant, laser resurfacing or a neck lift – to achieve a very balanced natural rejuvenation. If you are interested in combing surgeries, speak to your surgeon about your candidacy during your consultation.
Recovering from facelift surgery
Most of the time, patients go home the same day. Patients may experience discomfort that requires medications for a few days, yet there is seldom severe pain. Patients generally look very presentable from an isolated facelift within 3-5 days. This depends on the patients health and may be prolonged if combined with other procedures. In most cases, patients will be able to continue light work from home or office. At day 5-7, most professional are doing more work and may be going to the office and seeing clients / patients.


Exactly how long you wish to take off from work will depend on the type of procedure(s) you do and how quickly you recover.


Opting for a facelift is a big decision, consultations include meaningful and honest collaboration which includes a review of actual patient before and after pictures. Only after seeing the different possibilities is it appropriate to develop a treatment plan. While in the office, we also frequently have patient at different stages of their surgical transformation and encourage them to share their experience at the Optimization Centre. Our dedicated and professional team would be delighted to help you with this journey to a more youthful appearance. Our dedicated and professional team would be delighted to help you achieve the younger, rejuvenated appearance that you dream of with our Facelift services in Boca Raton, FL. Please contact us to schedule your confidential consultation at 561-771-6400 or to learn more about your candidacy for this procedure.