CareCredit is different than a regular credit card. Care credit offers special financing options that you may not get with other credit cards.
GREENSKY
The GreenSky Program offers you flexible financing to meet your needs. We have plans that offer convenient payments. With more than $10 billion in loans, the GreenSky family of Programs offers trusted financing options to give you a simple and more affordable way to pay. Fell free to apply online and get a decision in seconds! Credit limits up to $25,000!
UNITED MEDICAL CREDIT
Thousands of patients have trusted United Medical Credit to secure affordable payment plans for their procedures. United Medical Credit can do the same for you.
Some of the benefits of choosing United Medical Credit to finance your care:
Extensive Network of Prime and Subprime Lenders
Multiple Plans to Choose From
Decisions Within Seconds
No Prepayment Penalties with Flexible Terms
Fast and Easy Application Process with No Commitment
100% Confidential
Plans available for Credit Challenged Applicants
Click the Get Strated button bellow to apply for financing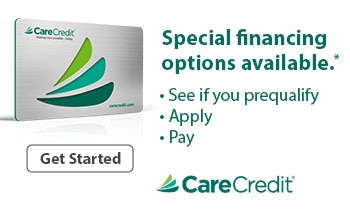 CareCredit is different from a regular credit card!
Use it to pay for out-of-pocket expenses not covered by medical insurance, and special financing options are available that you may not be able to get with other cards.
Pay for health, and wellness care at over 250,000 enrolled providers across the nation. Once you've applied, you can use it again and again at any location that accepts CareCredit.
With shorter term financing options of 6, 12, 18 or 24 months no interest is charged on purchases of $200 or more when you make the minimum monthly payments and pay the full amount due by the end of the promotional period. If you do not, interest is charged from the original purchase date.
CareCredit also extends longer term healthcare financing for 24, 36, 48 or 60-month periods with Reduced APR and Fixed Monthly Payments Required Until Paid in Full. Purchases of $1,000 or more may be eligible for 24 months offer with a 14.90% APR, a 36 months offer with a 15.90% APR or a 48 months offer with a 16.90% APR. Purchases of $2,500 or more may be eligible for a 60 months offer with a 17.90% APR.